Are you ready to be MSP.next?
In an evolving business environment previously profitable services are becoming commoditized and low-value. Your clients' needs are changing and your MSP business needs to change with them. For MSPs, delivering high-value services based on strategic relationships with customers is the path to increased revenue, without which there are only shrinking margins to look forward to.
With GetKambium you can expand your value to clients and become more than just another MSP. Win more deals, retain more clients and develop fresh revenue streams.
Experience counts so we're giving you ours
GetKambium is the result of 25 years experience, both as an MSP and as consultants to MSPs. We understand the need to change how your clients see you, elevating your conversations from the backroom to the boardroom. We've distilled what we've learnt into a product that helps you upskill your staff from fire fighters to strategy definers so they can make business-changing deals and be the hero your customers need.
Discover your clients and manage their needs
We've created GetKambium as two modules, Discover and Manage. Discover provides the questions, templates and reports your staff need to gain deep insight into the real nature of your customers' businesses and provides an easy, repeatable process so they can create high-value proposals that address their needs. Manage provides all the tools they need to deliver on time and on budget in a professional and repeatable manner. 
Empower Your Clients. Increase Your Profit.
Offer your clients an elevated level of scalable virtual CIO services
We know that large businesses have full-time IT managers, but smaller organizations simply can't justify a full-time role. They need someone to proactively manage their IT to meet the changing needs of the business. This is, of course, different from simply keeping the
lights on and the core infrastructure running.
So, we've built tools and a methodology to manage IT for businesses.
Discover
Prepackaged, wizard-style tools for Sales, Security and Strategy discovery so staff can ask the right questions to uncover client needs and their challenges and key priorities

Convert those insights qualified sales opportunities quickly and professionally and develop plans to achieve these complete with budgets and timelines. Pricing calculators mean you can deliver budgeted proposals quickly

Use pre-prepared recommendations to streamline your proposal process

Staff spend less time on preparation and more time on meaningful engagement with clients..

Automatically create PDF reports for you to share with your client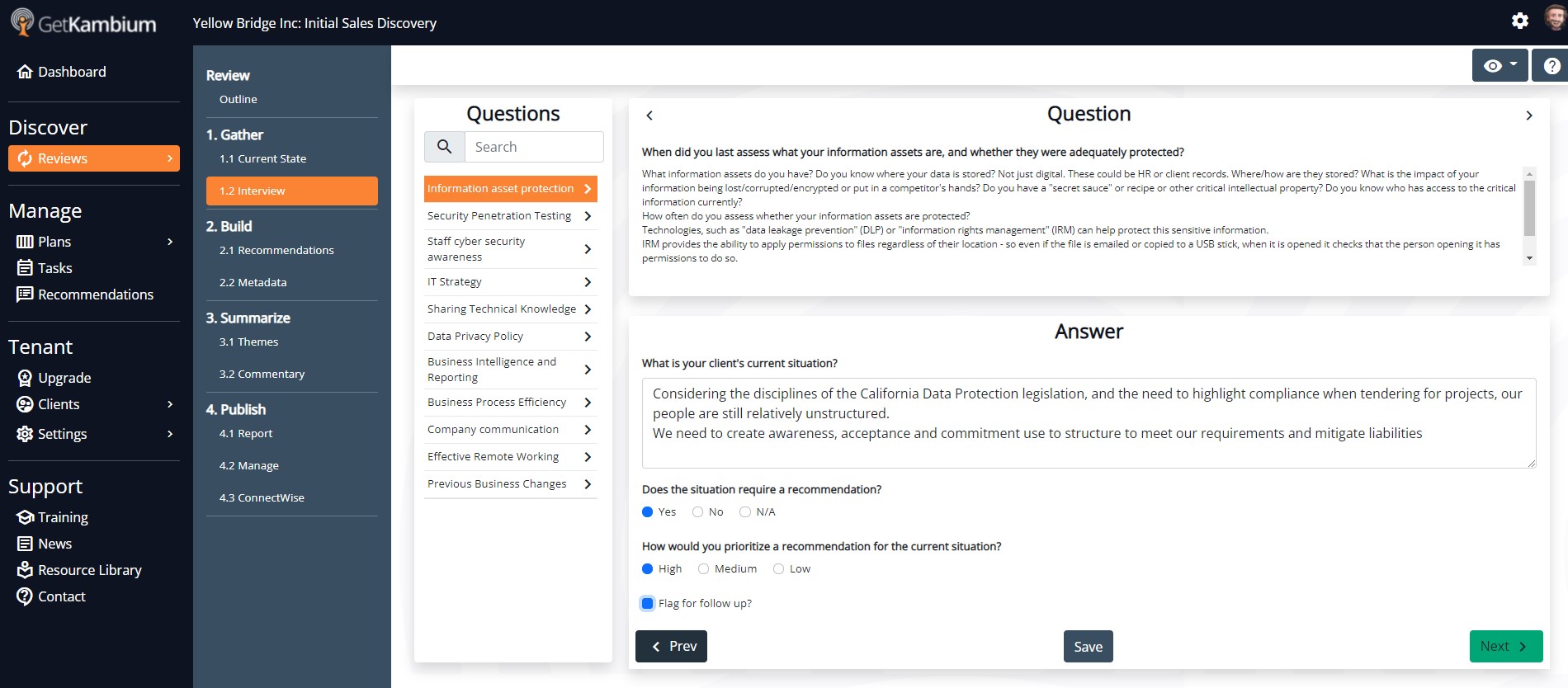 With GetKambium Premium you can also:
Add your own custom questions to fine tune your Discovery process based on your experience with your clients

Create of your your own custom discovery sets by bundling our content and yours into packages designed for specific customer types

Save your recommendations as new standard responses for unique solutions

Customise report  formats in MS-Word format, using your branding, logos, colours and fonts

Export recommendations to ConnectWise

Share content amongst licensed user in your organisation
Manage
The Manage module gives you what you need to keep on top of delivery times and budgets so you have a delivery programme that covers al, the bases.
Prepackaged plans for vCISO or vCIOs help your staff do the job you need them to do with each client, ensuring the business has a reputation for professional delivery

Pricing calculator and quoting tool ensures your team is always preparing best-fit quotes and engagement plans, with options to grade proposals based on cost/benefit to accurately set expectations around time and cost.  

Workflow manager helps staff on top of client commitments and deliver the best possible service so theory can help guide your clients to successful outcomes.

A central database helps you manage and track all client recommendations and actions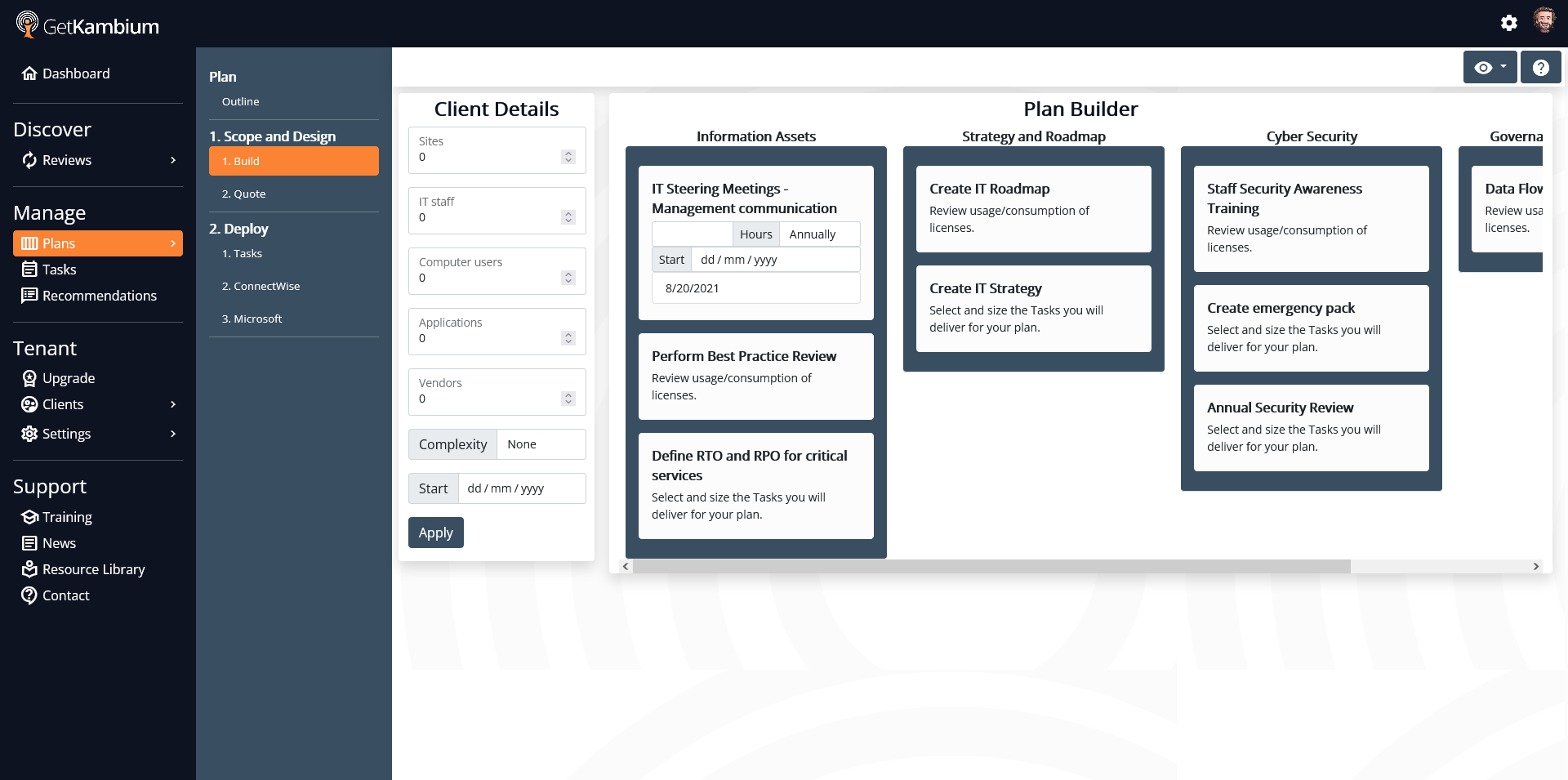 With GetKambium Premium you can also:
Document each task instructions and templates to assist your consulting team to deliver projects quickly and easily

Export forward workload tasks to ConnectWise or Microsoft Planner

Pre-generated MS-Word content to include in sales proposals

Reports generated in MS-Word for editing and customisation

Share content with other licensed users in your organization
Separate Yourselves from Other MSPs and VARs.  
Develop and execute innovative business strategies with Kambium
Ensure IT is structured and used according to best practices.
Handle license renewal, reconciliation, optimization and reporting.
Manage and measure vendors.
Facilitate project oversight, assessment, management and reporting.
Perform peer reviews, ensuring IT is meeting internal user satisfaction benchmarks.
Oversee IT governance and strategy, roadmaps and project prioritization. 
Conduct a Needs Assessment, refine processes and create efficiencies. 
Develop a business continuity plan and perform a risk assessment.
Create monthly or quarterly reports that are suitable for the CEO and board. 
One Great Price, All Business Sizes.
GetKambium Premium uses a simple, no surprises subscription pricing structure, no matter your business size.
US$450
per month
Includes 3 user licences
US$125
per month
Additional user licences