The change to cloud is a roller coaster.
High workload and revenue while everyone moves to cloud IT… then revenue suddenly drops as servers disappear into the cloud. This sudden reduction in engineering workloads is the result of less projects, fewer servers to manage and patch. There are no more servers coming to end of life, fewer version upgrades…
What will drive your future revenue?
IT providers need to have new services ready before losing current monthly recurring revenues. Once clients cancel a monthly spend, it is very hard to recover, especially against "born in the cloud" competitor IT providers.
What happened in NZ?
Why become a Kambium Partner?
Add revenue
Secure new MSP revenue streams from existing and new clients
New Conversations
Completely change the nature of your conversations with clients
Client Value
Help clients use IT to grow their business
Relationships
Build stronger, deeper relationships with your clients

"Kambium has proven to be invaluable as a recent addition to our Managed Services offering.  With the increased requirement for face to face training services being demanded by our clients, the discovery of the training material and process Kambium offers has made all the difference. The fact that Kambium are invested in our business and ensuring its success through their training and direct engagement further supports the decision we made to partner with them."
- Aaron Smith, Correct Solutions
See what our partners say
Everything you need Process, brochures, training content... it's all provided
Advisory Services
1. Best Practice Review - Use our web app to guide discussions with business leaders about their priorities, covering 150 aspects of their IT
2.  Present the automatically generated 20 page report back to them, which highlights current and future needs
3. Map progress against the identifed priorities, creating an upsell to ITMAAS
Workflow and Productivity Training
Consumption reports that clearly show you and your client opportunities for increased use of Office365
All the resources you need to successfully deliver end user training including user guides and trainer notes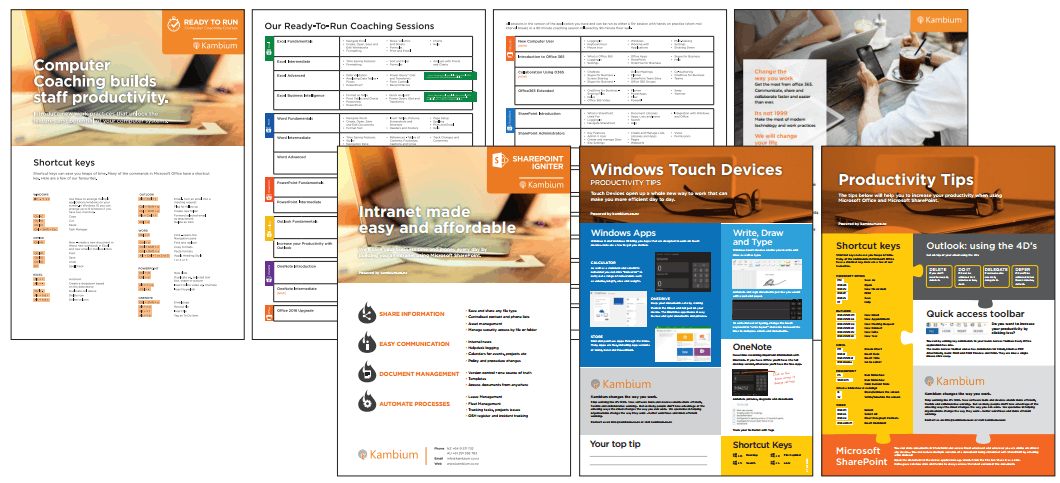 get started now
Find out if Kambium will help your business
Get in touch to find out more about Kambium. We will walk you through the new services you could offer and how we can help you secure new revenue streams from existing and new clients.
EMAIL
Please complete the contact form or
DOWNLOAD OUR PARTNER BROCHURE