Intranets made easy and affordable
---
You and your team need to share documents, emails and critical business information whether you are working in the office or out on the road.  You need it to be secure, reliable and easy for everyone to use.
Share Information
Save and share any file
Centralised contacts
Asset management
Control who sees what
Communicate Easily
Internal news
Helpdesk logging
Calendars for events
Policy and procedures
Manage Documents
One source of truth
Version control
Easily find templates
Access anywhere
Automate Processes
Leave Management
Fleet Management
Tracking tasks/projects
Health and Safety
try our SharePoint demo
---
Click on the image below to try SharePoint for yourself.
Make as many changes you want, you wont break it (we reset the site each night).
USERNAME :   makingwork                        PASSWORD :   soeasy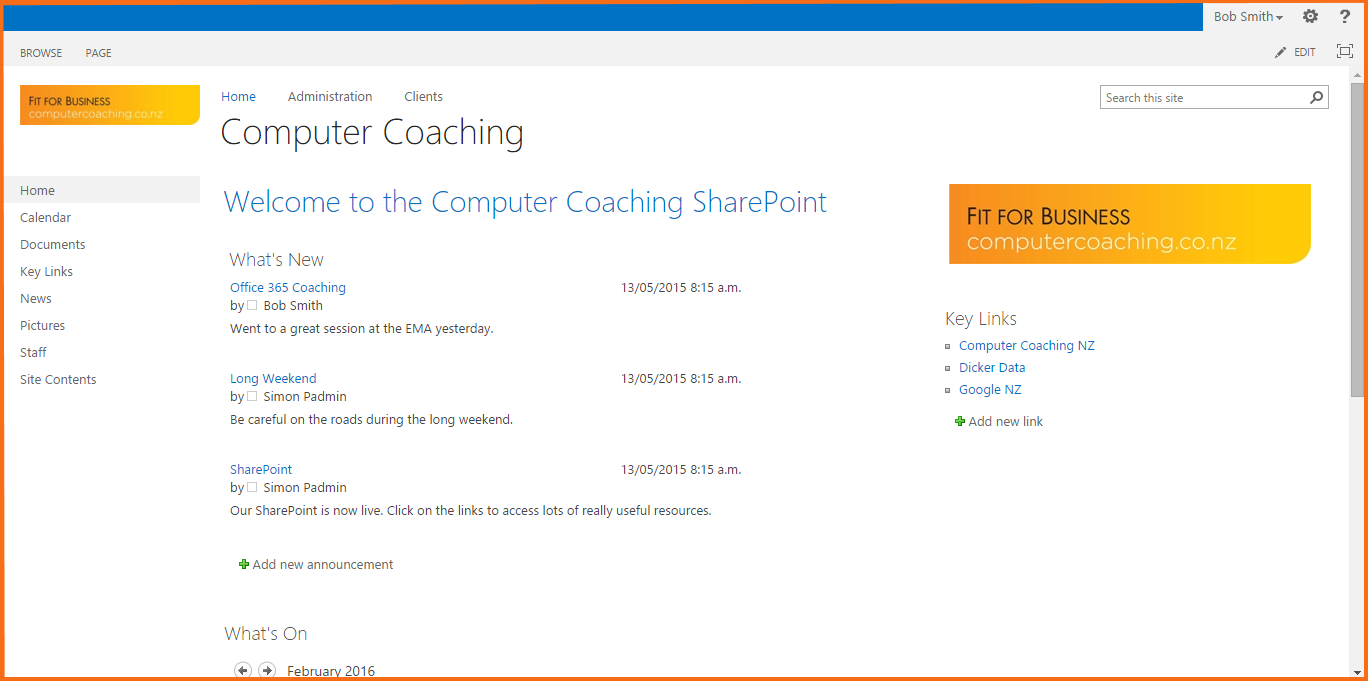 Building AN INTRANET HAS NEVER BEEN EASIER
---
We confirm your key objectives and agree on the measures of a successful SharePoint intranet deployment.
We then plan your initial deployment based on standard SharePoint components, designing the sites, lists and libraries to achieve your business objectives.
Configuration and development of your customisable intranet using our business and technical expertise.
We deliver two x 2 hour handover coaching sessions for your SharePoint Administrator.
During coaching we help you add content and plan deployment to users.
People literally love what we do
---
Because we change peoples lives.  No exaggeration. We make sure our SharePoints are super practical so your teams can use it immediately. But the real magic in what we do is helping you change the way you work.  We help you make the most of IT that you already own - especially the powerful tools in Office 365. Stop working like you did in 1999. Find out how by getting in touch, or visit
www.computercoaching.co.nz
to learn more.
[contact-form-7 id="800" title="Contact form 1"]