New Revenue.
Drive your revenue targets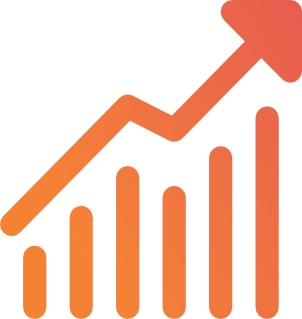 Selling is a thousand times easier if your clients want to buy your product or service.
The easiest way to achieve this is knowing what they need, why they need it and presenting your service in their language.
You need to have a structured way to discover a prospective clients needs, in a way that will create and qualify opportunities for your sales pipeline.
GetKambium DISCOVER uncovers needs and publishes the opportunities into ConnectWise Manage.
From a sales DISCOVERY to a cyber-security DISCOVERY or an executive DISCOVERY, you can learn the depth and breadth of your clients' needs and reframe these as a costed road-map, and sales opportunities. You can even create your own DISCOVERY sets with a PREMIUM subscription.
Sales Discovery
With the Discovery review process, you have a repeatable framework of questions and recommendations to help you gain a deep understanding of your client's business and deliver high-value recommendations.  Create polished, professional summaries to prospects that clearly identify their business needs and how you can address them.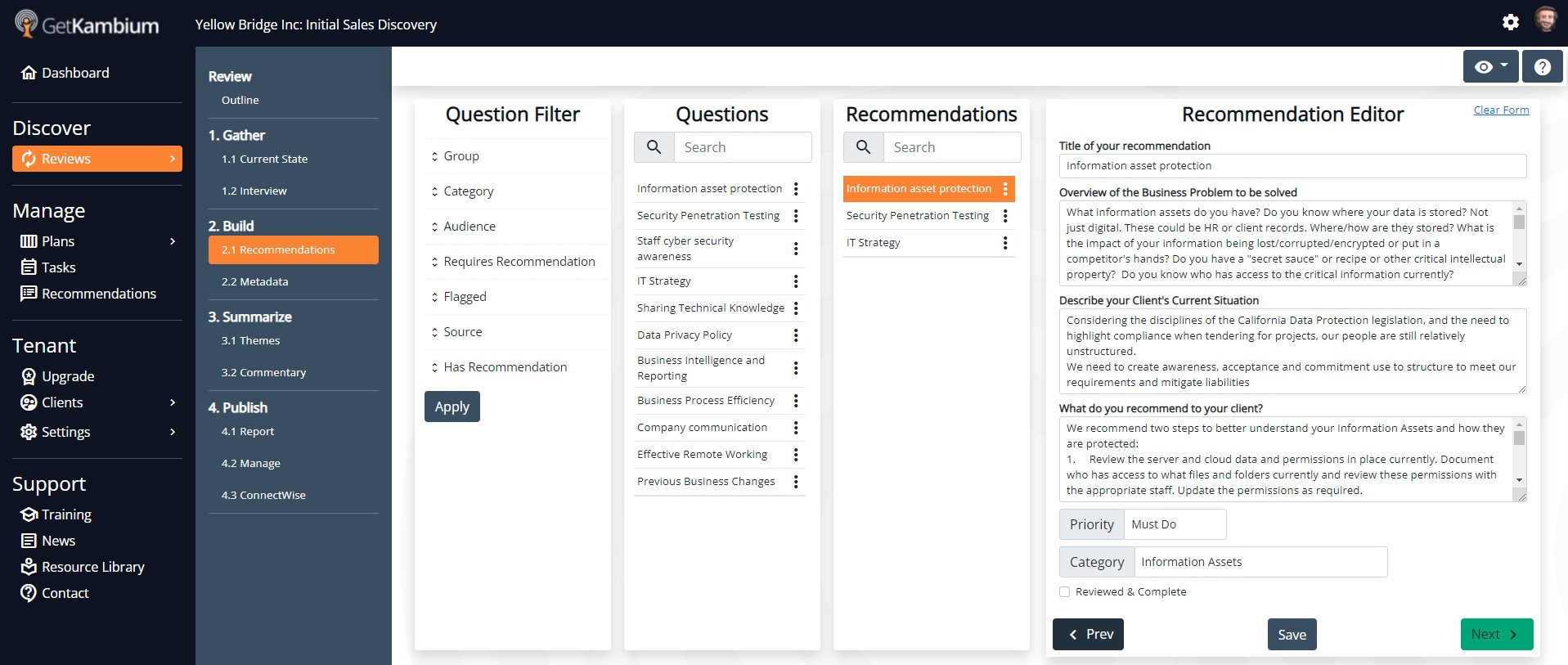 DISCOVER Prepackaged discovery questions help you map your client's requirements, including guidance about the purpose and framing of each question so you can quickly unearth key priorities
CONVERT  By understanding the customers' real priorities every opportunity you uncover becomes a qualified sales opportunity complete with timelines and budgets
RECOMMEND Use pre-prepared recommendations to streamline your proposal process
PROPOSE  Make more immediate connection with decision makers in your customer with high-quality proposals using auto-created PDF reports..
With GetKambium Premium you can also:
Add your own custom questions to fine tune your Discovery process based on your experience with your clients
Create your own custom discovery sets by bundling our content and yours into packages designed for specific customer types
Save your recommendations as new standard responses for your own customized solutions
Customise report  formats in MS-Word format, using your branding, logos, colours and fonts
Export recommendations to ConnectWise as sales opportunities.
getKambium goes further.
Your clients will define IT more broadly than a traditional MSP. The MSP Paradox means they are MORE reliant on more IT systems than ever, and they need help to look after them.
It's not the traditional MSP workload though. Your clients will need managing other vendors, defining IT and data policies, supporting IT staff and more – all drawn from our ITMaaS map. getKambium allows you to build all new MRR agreements to manage and govern their IT, know WHAT to do, WHEN and HOW, with practical guides and templates to ensure your success, adding the value your clients really need from their trusted IT advisor!
Download a sample report
Download a sample output report that is easy to populate with getKambium's step-by-step process.
See what you can create when you sign up to getKambium FOR FREE!
See the power of getKambium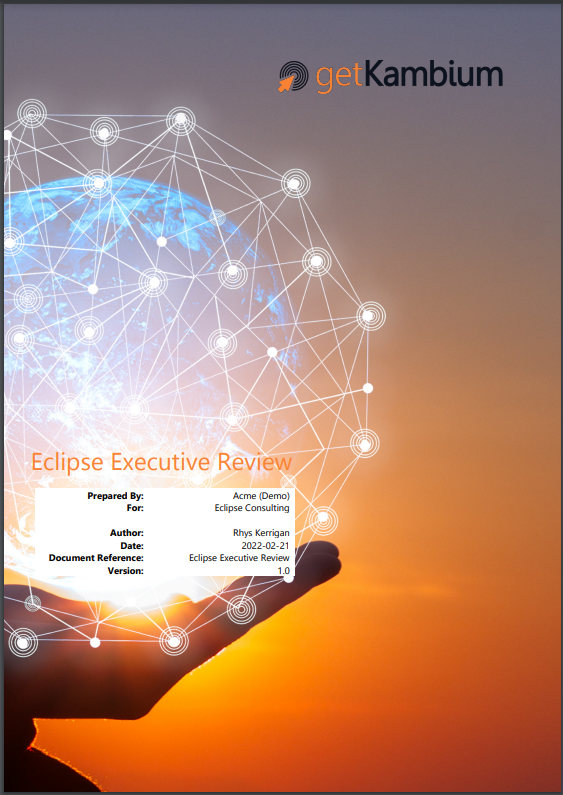 GetKambium will help

you

help your clients to achieve their business goals, hit their targets and mitigate their business risks 
To see if getKambium is right for you, sign up for free now (no credit card required)