Get better insights for higher-value deals
High-value deals start with high-value conversations.
To successfully elevate the conversations you have with your clients you'll need deep insight into your customers' business needs and challenges.
With Sales Discovery with GetKambium gives you the tools you need to get to grips with your customers' real business drivers, so you can create deals that address your clients' problems and deliver them valuable opportunities.
With GetKambium's Sales Discovery your sales team will be able to demonstrate their credibility and develop qualified leads from customers in less than an hour with just 12 questions.
Win more business by discovering your clients 'what', 'why' and 'when'
Know what is important to your client because you asked them!
Sales Discovery
With the Discovery review process, you have a repeatable framework of questions and recommendations to help you gain a deep understanding of your client's business and deliver high-value recommendations.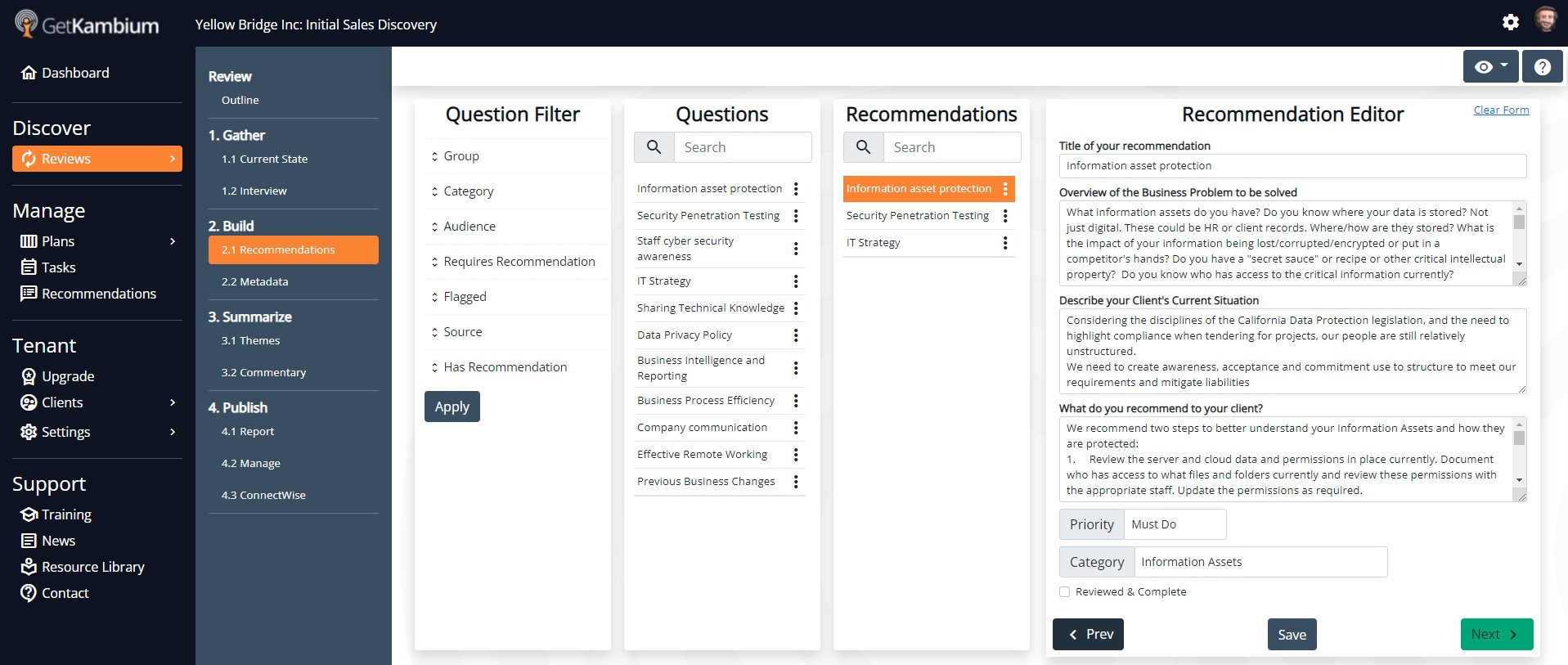 DISCOVER Prepackaged discovery questions help you map your client's requirements, including guidance about the purpose and framing of each question so you can quickly unearth key priorities
CONVERT  By understanding the customers' real priorities every opportunity you uncover becomes a qualified sales opportunity complete with timelines and budgets
RECOMMEND Use pre-prepared recommendations to streamline your proposal process
PROPOSE  Make more immediate connection with decision makers in your customer with high-quality proposals using auto-created PDF reports..
With GetKambium Premium you can also:
Add your own custom questions to fine tune your Discovery process based on your experience with your clients
Create your own custom discovery sets by bundling our content and yours into packages designed for specific customer types
Save your recommendations as new standard responses for your own customized solutions
Customise report  formats in MS-Word format, using your branding, logos, colours and fonts
Export recommendations to ConnectWise as sales opportunities.
The secret to winning more business is more, genuinely qualified opportunities.
GetKambium Sales Discovery 
– the secret to uncovering what your client really needs.